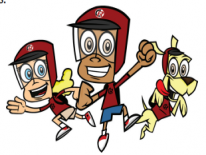 Commander Ready
Serve DC's youth preparedness program, Commander Ready, is a specialized emergency preparedness Initiative designed to educate and engage youth ages 5-13. Commander Ready uses fun, interactive games and activities to introduce youth to emergency preparedness in a nonthreatening, safe way. Students who participate in Commander Ready are educated on the most relevant emergency-related topics, which better equips them as leaders and role models in the event of an emergency at home, school or in the community. In addition to engaging young people in preparedness, the curriculum is also designed to improve skills in math, science, language arts, health and social studies.
By creating innovative ways to introduce emergency preparedness to children, Commander Ready increases preparedness engagement among family members and peers – leading to better-informed, safer communities and encouraging a lifelong commitment to civic engagement and service.
For more information about Commander Ready or to register a school, class or group, please contact Serve DC at [email protected] or (202) 727-7925.
Summer Youth Emergency Preparedness Academy (SYEPA)
The Serve DC Summer Youth Emergency Preparedess Academy (SYEPA) is designed to empower District of Columbia youth with training to assist their families and communities in the event of a disaster, while providing exposure to careers in ermergency management and public safety. SYEPA is comprised of four components:
Teen CERT Certification -- Community Emergency Response Team training that is geared towards young adults
Commander Ready Certification "Train-the-Trainer" Model -- Certifiies participants to teach youth (ages 6-13) the basics of emergency preparedness
First-Aid/CPR/AED Certification -- Two-year certification that is in accordance with American Red Cross' standards
Workforce Development -- Exposure to various careers in emergency management by engaging industry professionals, which happens through lectures, site visits, and trainings for SYEPA participants
DC high school 11th and 12th graders with a interest in emergency management/public safety careers and a resume should apply at www.summerjobs.dc.gov from Janaury 26 - February 28, 2018.
Click here to access the 2018 SYEPA Brochure; click here to access the 2017 SYEPA Closeout Report, which contains program statistics.
For more information about SYEPA, please contact Serve DC at [email protected], (202)727-9576 or (202) 727-7925.
Teen Community Emergency Response Team (CERT)
Teen Community Emergency Response Team (CERT) training teaches you about the potential disasters that could affect your area and how to safely and responsibly respond to them. Through TEEN CERT, you can serve your community and help take care of your school and home. It takes about 20 hours to complete the CERT training, but the critical skills you learn will last your entire life. During the training you will learn to do the following:
Extinguish small fires
Conduct light search and rescue
Assist those who are injured
Set up medical treatment areas
Assist emergency responders
Identify and anticipate hazards
Reduce the fire hazards in the home and workplace
Help reduce survivor stress
For more information about Teen CERT, please contact Serve DC at [email protected]/(202)727-9576.