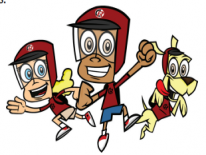 Serve DC's youth preparedness program, Commander Ready, is a specialized emergency preparedness Initiative designed to educate and engage youth ages 5-13. Commander Ready uses fun, interactive games and activities to introduce youth to emergency preparedness in a nonthreatening, safe way. Students who participate in Commander Ready are educated on the most relevant emergency-related topics, which better equips them as leaders and role models in the event of an emergency at home, school or in the community. In addition to engaging young people in preparedness, the curriculum is also designed to improve skills in math, science, language arts, health and social studies.
By creating innovative ways to introduce emergency preparedness to children, Commander Ready increases preparedness engagement among family members and peers – leading to better-informed, safer communities and encouraging a lifelong commitment to civic engagement and service.
For more information about Commander Ready or to register a school, class or group, please contact Serve DC at (202) 727-7925.