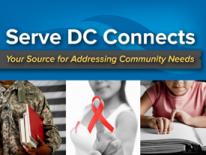 Serve DC Connects is an online resource that links District of Columbia residents to District-based organizations, services and programs that provide assistance to veterans, military servicemen and women, and their families; children with disabilities; and individuals with HIV/AIDS. Serve DC Connects is also designed specifically to connect DC community-based organizations and service providers with their counterparts across the city to facilitate efficient and appropriate client referrals and information.
Serve DC Connects covers a wide range of needs, including: advocacy, education, employment, food and nutrition resources, health and social services, housing assistance, and legal services. Serve DC Connects also provides an Urgent Needs section that lists service providers and organizations who can assist individuals with immediate, critical needs, including: housing assistance, legal services, and food and nutrition.
Individuals can search Serve DC Connects based on location or population category and can further limit their search by selecting subcategories, including but not limited to: employment, food and nutrition, housing, health and social services and more. Serve DC Connects' handy map feature lets you search for population-specific resources by address and all listings include Metro rail and bus line information, allowing individuals to select resources in the most convenient locations possible.
Serve DC Connects is the result of a partnership between Serve DC and the Urban Institute's National Center for Charitable Statistics. The Urban Institute's National Center for Charitable Statistics is the national repository of data on the United States nonprofit sector. Its mission is to develop and disseminate high quality data on nonprofit organizations and their activities for use in research on the relationships between the nonprofit sector, government, commercial sector, and broader civil society.
For more information, please visit www.servedcconnects.org, or contact Serve DC at (202) 727-7925.