#ThankUniforms: Say Thank You with Service on September 11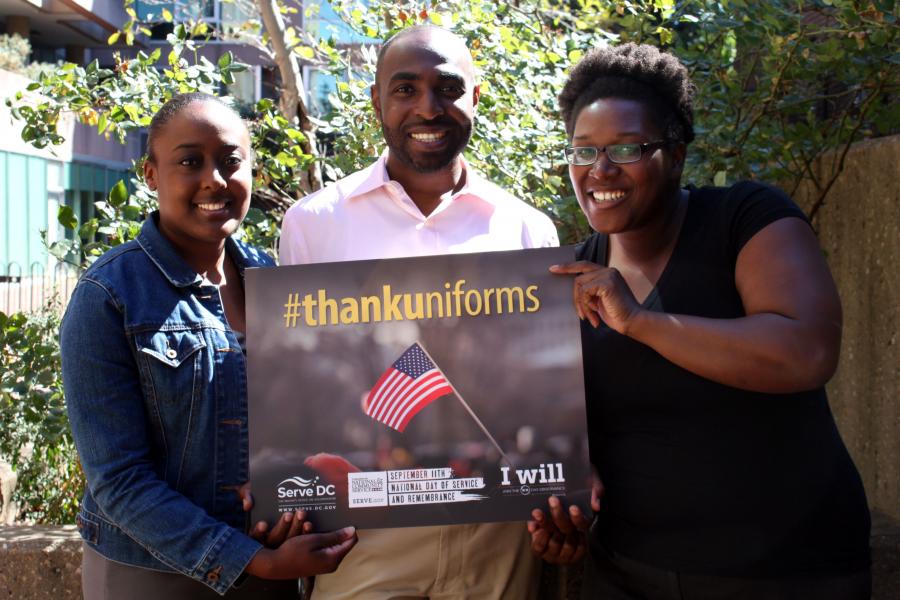 Serve DC is encouraging residents to commemorate the September 11th National Day of Service and Remembrance and pay tribute to men and women in uniform by giving back. On behalf of Blue Star Families and Operation Honor Cards, Serve DC is hosting "#ThankUniforms," an outreach campaign that calls on District residents to pledge and fulfill service hours to honor the service of first responders, military service members, veterans, and their families.
On September 11, Serve DC staff and volunteer teams will be at #ThankUniforms pop ups at Metrorail stations across the city, including:
Foggy Bottom/GWU (GWU Hospital exit)
Navy Yard/Ballpark (M Street and New Jersey Avenue exit)
U Street/Cardozo (U and 12th Street exit)
Union Station (Massachusetts Avenue exit)
At the pop ups, Individuals can complete honor cards pledging community service, submit personalized thank-you messages to service members and share their commitment via social media. Serve DC will also collect service pledges and messages online throughout the day. Complete an online Honor Card and pledge community service hours.
Share Your Commitment via Social Media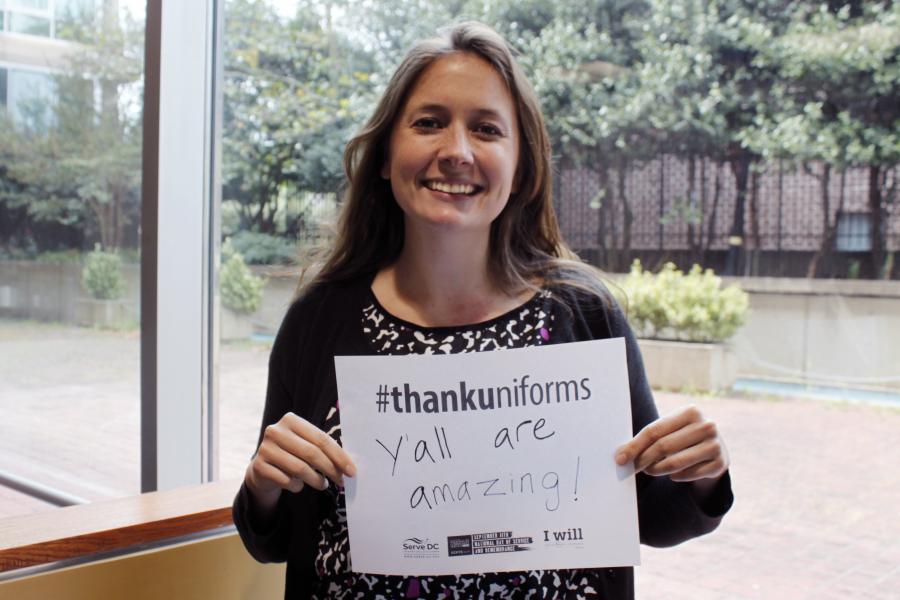 Upon completing an in-person or online honor card, Serve DC is asking individuals and groups to use social media to share their commitment and encourage their networks to get involved. Individuals can download a customizable #ThankUniforms sign[PDF] or create your own, then take a picture of yourself or your group and share it via social media. Be sure to include the hashtag #ThankUniforms and tag @ServeDC.
Serve DC will compile all photos and messages for a special album that will be shared with first responders and military service members. The total number of hours pledged will be submitted to the Operation Honor Cards national tally on behalf of the District of Columbia Government and corresponding thank-you messages will be shared with military service members and families and displayed in public venues in Washington, DC and at military installations across the country.
---
Are You Organizing a September 11th Service Project?
Volunteer Recruitment: Organizations and individuals in need additional volunteers for their September 11th-related service projects can submit their opportunities to NeighborGood, Serve DC's online volunteer opportunity database and search engine.
Project Planning & Resources: Serve.gov, the online home of President Obama's nationwide service initiative, "United We Serve," has free, online resources to help turn great ideas into successful service projects. Focus areas include: community renewal, disaster preparedness, education, energy and the environment, health, hunger, veterans and military families, and more. Explore free resources on Serve.gov.
---
About the September 11th National Day of Service and Remembrance
The September 11th National Day of Service and Remembrance is a positive and forward-looking way for Americans and others to forever honor and remember the September 11, 2001 victims and survivors, as well as those who rose to service in the aftermath of the attacks. Learn more at Serve.gov.