DC MLK Day of Service Events
---
13th Annual MLK Peace Walk and Parade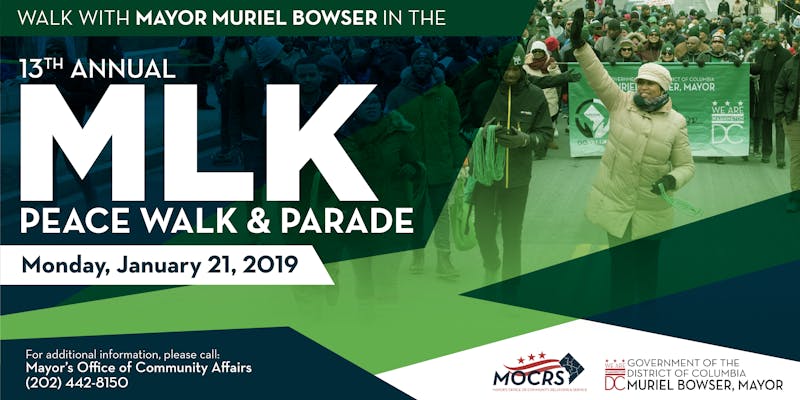 Join Mayor Muriel Bowser and members of the Bowser Administration for the 2019 Martin Luther King Jr. Holiday Peace Walk and Parade!
We will be honoring a great American hero in the nation's capital of a country that will be forever changed by his legacy. Whether you can march with us or simply be an observer, all are welcome!
Date & Time
Location
Anacostia Park Entrance
MLK Jr. Ave SE and Good Hope Road SE
Washington, DC 20020
---
Martin Luther King Days of Canvassing Service
Most of us feel it: As a democracy and a society, we can no longer work together to make a better world. If we don't change things, we are heading toward a grim future. All you need now to make a difference is the courage to talk to people around the city about the need, how they can get involved as tutors and mentors, and why it matters – to an individual child and to our larger world. We keep it positive but not passive and plant seeds of civic possibilities and hope.
Date & Time
Saturday, January 19th (GWU)
Sunday, Jan. 20th (Howard U. or Col. Hgts)
Monday, Jan. 21st (Martin Luther King Day, Columbia Heights)
Pick a day that works for you!
Location
Joephine Butler Parks Center
2437 15th St. NW
Washington, DC 20009
---
Annual Martin Luther King, Jr. Day of Service Blanket & Toiletry Drive
The Annual Martin Luther King, Jr. Day of Service Blanket & Toiletry Drive is a Thursday Network's annual event to honor the legacy of Martin Luther King, Jr. During the month of January, communities within DC, Prince George's County and Montgomery County will be asked to donate items and funds to create care packages for housing unstable residents.
Date & Time
January 21, 2019
10:00 AM - 2:00 PM EST
Location
Rocketship Rise Academy
2335 Raynolds Pl SE
Washington, DC 20020
---
Clean Waterways Volunteer Cleanup: Dr Martin Luther King Day of Service
Come join us for our annual MLK Day of Service clean up with Pope Branch Park Restoration Alliance on January 21st! Supplies for the trash clean up will be provided, it is recommended to wear closed toed shoes and warm clothes. Breakfast sandwiches and coffee will be provided by Shake Shack and Chesapeake Bay Roasting Co.
Date & Time
January 21, 2019
10:00 AM - 1:00 PM EST
Location
Pope Branch Park
2900 M Place SE
Washington, DC 20019
---
Service Project Resources
If you are interested in or are planning a service project, we encourage you to check out these free resources from Serve DC and partners:
MLKDay.gov: Project Toolkits & Guides
United We Serve: Resources & Toolkits
HandsOn Network: Tools & Resources
Youth Service America: Youth-Specific Resources
Download Serve DC's Rock Your World: DC Youth Service Project Toolkit [PDF] and DC Youth Service Project Planning Guide [PDF].
---