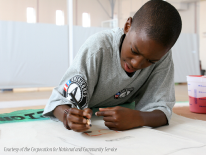 Serve DC is the DC Commission on National and Community Service, one of more than 50 State Service Commissions that administer federal Corporation for National and Community Service funds and coordinate national service initiatives in the District. As part of this role, Serve DC annually awards nearly $4 million in AmeriCorps grants to District-based organizations committed to using national service to address critical needs in public safety, education, environment and disaster relief.
Learn more about AmeriCorps funding opportunities for DC community-based, nonprofit organizations:

Important deadlines [PDF]
2020 State Competitive Grant Process and Deadlines Application Timeline
Monday, September 23
Submission Action: NOFO and RFA released
Additional details: Available at serve.dc.gov
Wednesday, October 2
Tuesday, October 8 by 5 pm
Submission Action: Logic Models due to Serve DC by 5 pm. Send submissions to

[email protected]

Additional details: None
Monday, October 21
Submission Action: Serve DC will notify qualifying applicants to submit full applications.
Thursday, October 24
Friday, November 1
Submission Action: Full Applications due in e-Grants and electronic copy to Serve DC by 5 pm.
Friday, December 13 – Thursday, December 19
Submission Action: Serve DC Clarification Process with Qualifying Applicants
Friday, December 20
Submission Action: Revised/Final Applications due in e-Grants.
Wednesday, January 7
Submission Action: Serve DC submits complete Competitive package to CNCS.
Friday, May 1
Submission Action: Awards will be available.