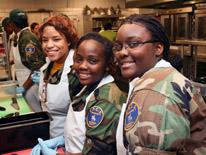 Serve DC is the District Government agency dedicated to promoting service as an innovative, sustainable solution to address community needs. Serve DC engages District communities by facilitating public, private and government partnerships and providing meaningful service opportunities.
If you are interested in volunteering, participating in a service day or event, or working with Serve DC or one of our community-based partners, please sign up for our mailing list to be notified of upcoming opportunities or see the following links for more information:
Volunteer.dc.gov
Volunteer.dc.gov
is a free, online District of Columbia-specific volunteer opportunity database and search engine; that connects residents with meaningful District-based volunteer opportunities and connects community-based organizations and others with the city's cadre of dedicated, experienced volunteers.