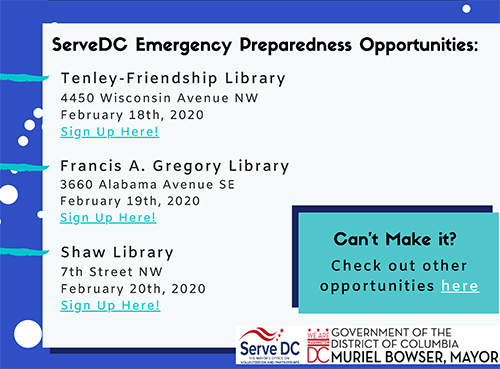 Click here or on the flyer to learn more and see the event links.
Can't make these? Check out our partner organizations listed below who have additional opportunities available. For more information about registration, please use the contact information listed under each organization.
Martha's Table Joyful Food Market
Mission: Joyful Food Markets are pop-up monthly markets held in elementary schools in Wards 7 and 8 in D.C. School families are invited to shop at no-cost for a variety of beautiful high-quality produce, including bananas, apples, greens, and sweet potatoes, as well as basic shelf staples such as pasta and beans.
https://marthastable.org/volunteer/
Capital Area Food Bank
Mission: The Capital Area Food Bank leads our region's efforts to provide good, healthy food to people struggling with hunger and food insecurity. Each year, we source and distribute the food for over 30 million meals.
https://volunteer.capitalareafoodbank.org/
Department of Parks and Recreation (DPR)
Mission: DPR's mission is to promote health and wellness; conserve the natural environment; and provide universal access to parks and recreation services.
Alice Miller, [email protected]