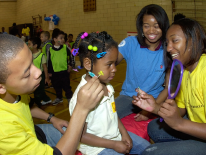 Each year, Serve DC awards more than $2 million in AmeriCorps grants to District-based organizations committed to using national service to address critical community needs.
Meet the 2014-15 Serve DC AmeriCorps State subgrantees:
Byte Back, Inc. is a nonprofit organization that provides computer literacy and employment readiness skills to underserved communities throughout the District of Columbia. Their mission is to improve economic opportunities by providing computer and technology courses to low-income District residents.
Center for Inspired Teaching is transforming education through innovative teacher training. They are building a better school experience for children by helping teachers move from information providers to "Instigators of Thought." When students learn not just what to think but how to think, they will succeed in the classroom today and in college and careers tomorrow.
AARP Experience Corps District of Columbia uses the wisdom and experience of their volunteer members, all 50+ years of age, to improve the literacy and reading skills of the children we serve. AARP Experience Corps is a proven, national program made up of volunteer tutors dedicated to helping children become great readers before finishing third grade. Experience Corps tutors also serve as mentors and role models. Through this intergenerational exchange, children succeed, older adults thrive, and communities are made stronger. What inspires the work of AARP Experience Corps is the idea that from third grade onward, students should be reading to learn, not learning to read.
Kid Power
Kid Power inspires youth leadership by promoting academic advancement, physical and emotional wellness, and positive civic engagement in underserved communities throughout the District of Columbia. Currently, Kid Power provides innovative afterschool and summer programs to approximately 425 youth aged 7-18 at 8 program locations. Kid Power prides itself on its commitment to robust evaluation systems, innovative and differentiated instruction, dynamic community partnerships, and supportive family engagement practices. Kid Power embraces youth voice and believes that every young person can become an informed and engaged advocate for change in their own lives and in their communities.
Higher Achievement closes the opportunity gap during the pivotal middle school years. By leveraging the power of communities, Higher Achievement's proven model provides a rigorous year-round learning environment, caring role models, and a culture of high expectations, resulting in college-bound scholars with the character, confidence, and skills to succeed. Higher Achievement's Centers are located in Wards 1, 4, 6, 7 and 8.
The Latin American Youth Center (LAYC) is a nationally recognized organization serving all low-income youth and families across the District of Columbia and in Maryland's Prince George's and Montgomery Counties. LAYC provides multi-lingual, culturally sensitive programs in Educational Enhancement, Social Services, Workforce Investment, Art and Media, and Advocacy.
Playworks Washington, DC is a nonprofit organization that works to improve the health and well-being of children by increasing opportunities for physical activity and safe, inclusive play. Playworks operates nationally in 23 cities. In fall 2006, Playworks launched program in six schools in Washington, DC. During the 2012-2013 school year, Playworks Washington, DC will serve 13 schools, 10 of which are served by AmeriCorps members, to bring healthy play to approximately 4,000 elementary school students every day.
City Year Washington, DC is an education-focused, nonprofit organization that partners with public schools and teachers to help keep students in school and on track to succeed. This innovative public-private partnership brings together teams of young AmeriCorps members who commit to a year of full-time service in schools. Corps members provide individual support to students who need extra care and attention, focusing on attendance, behavior, and course performance through in-class tutoring, mentoring, and after-school programs.
Jumpstart partners 324 Corps members to work with almost 800 Washington, DC preschool children living in low-income neighborhoods in and around the District. For the entire 2012-2013 school year, they will work together on the language and literacy skills necessary to succeed not only in school, but also in life.
Reading Partners is a national education nonprofit dedicated to improving students reading skills. Launched in 2010, Reading Partners Washington, DC operates in 11 District of Columbia elementary schools and supports more than 460 students from low-income communities who read below grade-level, including recruiting and training community volunteers to work one-on-one with students following a structured, research-based curriculum.
Teach For America – D.C. Region (TFA – D.C.) is working to accelerate the pace of change for students in our community by cultivating life-long social justice leaders at key leverage points within the education ecosystem. Our vision is: One day, in D.C. & Prince George's County, our brilliant students will be equipped with the knowledge, skills and mindsets to attain their dreams and excel in school and society.