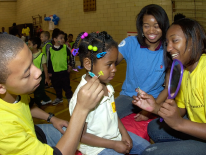 Each year, Serve DC awards more than $2 million in AmeriCorps grants to District-based organizations committed to using national service to address critical community needs.
Meet the 2018-19 Serve DC AmeriCorps State subgrantees:
Our vision is for our All-Stars to be safe and healthy, to graduate high school and go to college, to find careers they love, and then give back to their communities.
Center for Inspired Teaching envisions a future in which every person is prepared to thrive in and contribute to our complex and rapidly changing world, through an education that teaches students how to think. Inspired Teaching transforms the preK-12 school system by cultivating changemaking educators who authentically engage their students as active learners and empathetic critical thinkers. Inspired Teaching invests in preK-12 teachers at all stages of their careers through programs that prepare new teachers, strengthen the practice of in-service teachers, and amplify teachers' work as changemakers. Through our programs, we ensure that every teacher becomes an Instigator of Thought®.
City Year Washington, DC is an education-focused, nonprofit organization that partners with public schools and teachers to help keep students in school and on track to succeed. This innovative public-private partnership brings together teams of young AmeriCorps members who commit to a year of full-time service in schools. Corps members provide individual support to students who need extra care and attention, focusing on attendance, behavior, and course performance through in-class tutoring, mentoring, and after-school programs.
To provide quality education for children in Washington DC's neighborhoods of greatest need. We accomplish this through intentional programs, caring staff, and excellent relationships with housing and educational facilities in the metro DC area.
Earth Conservation Corps is a nonprofit Youth Development and Environmental service organization. Earth Conservation Corps uses the challenge and promise of restoring the Anacostia River to engage unemployed community youth for a transformative volunteer year of environmental action and community service.
Higher Achievement closes the opportunity gap during the pivotal middle school years. By leveraging the power of communities, Higher Achievement's proven model provides a rigorous year-round learning environment, caring role models, and a culture of high expectations, resulting in college-bound scholars with the character, confidence, and skills to succeed. Higher Achievement's Centers are located in Wards 1, 4, 5, 6, 7 and 8.
Jumpstart partners 324 Corps members to work with almost 800 Washington, DC preschool children living in low-income neighborhoods in and around the District. For the entire 2012-2013 school year, they will work together on the language and literacy skills necessary to succeed not only in school, but also in life.
Kid Power inspires youth leadership by promoting academic advancement, physical and emotional wellness, and positive civic engagement in underserved communities throughout the District of Columbia. Currently, Kid Power provides innovative afterschool and summer programs to approximately 425 youth aged 7-18 at 8 program locations. Kid Power prides itself on its commitment to robust evaluation systems, innovative and differentiated instruction, dynamic community partnerships, and supportive family engagement practices. Kid Power embraces youth voice and believes that every young person can become an informed and engaged advocate for change in their own lives and in their communities.
The Latin American Youth Center (LAYC) is a nationally recognized organization serving all low-income youth and families across the District of Columbia and in Maryland's Prince George's and Montgomery Counties. LAYC provides multi-lingual, culturally sensitive programs in Educational Enhancement, Social Services, Workforce Investment, Art and Media, and Advocacy.
The Literacy Lab's mission is to provide low-income children with individualized reading instruction to improve their literacy skills, leading to greater success in school and increased opportunities in life. The Literacy Lab serves children from age three through grade three. They partner with school districts to help close the literacy gap largely by embedding full-time, rigorously-trained tutors in early childhood centers and elementary schools. The Literacy Lab also supports early literacy for families experiencing homelessness.
National Reentry Network's Mission is to build a strong, national network of returning citizens who support each others successful reintegration to their communities and to elevate their leadership by advocating for policy reforms that promote restorative practices and reductions in incarceration.
Reading Partners is a national education nonprofit dedicated to improving students reading skills. Launched in 2010, Reading Partners DC operates in 19 District of Columbia elementary schools and supports more than 925 students from low-income communities who read below grade-level, including recruiting and training 1,100 community volunteers to work one-on-one with students following a structured, research-based curriculum.
Relay's mission is to teach teachers and school leaders to develop in all students the academic skills and strength of character needed to succeed in college and life.
Teach For America – D.C. Region (TFA – D.C.) is working to accelerate the pace of change for students in our community by cultivating life-long social justice leaders at key leverage points within the education ecosystem. Our vision is: One day, in D.C. & Prince George's County, our brilliant students will be equipped with the knowledge, skills and mindsets to attain their dreams and excel in school and society.
Teens Run DC promotes the physical, social, and emotional well-being of underserved youth through a mentoring and distance running program. Youth in the program participate in running and life skills trainings each week, receive the support of an individual mentor and an embracing community, and engage in races, community events, and service learning opportunities. Through the program, middle and high school youth of all abilities and backgrounds envision and work towards their running and life goals.
The Washington AIDS Partnership brings together ideas, people, and resources to end the HIV epidemic in the Greater Washington region. As an initiative of the Washington Regional Association of Grantmakers, the Partnership invests in local organizations, focusing programming and resources on the communities most affected by the epidemic.