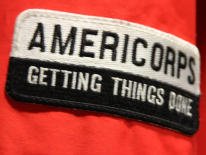 Serve DC announces the availability of AmeriCorps State Competitive funding for Fiscal Year 2018-2019 to eligible organizations. Subject to the availability of appropriations for Fiscal Year 2018 (FY2018). Application Instructions released by the Corporation for National and Community Service (CNCS), states that new applicants with high-quality proposals will compete nationally with other State and National programs for Competitive funds made available through Serve DC and CNCS.
The total amount of an applicant's grant request must not exceed $14,932 per Member Service Year. Applicants must request no less than twenty (20) Member Slots. For Professional Corps, the applicant's grant request must not exceed $1,000 per Member Service Year and must request no less than twenty (20) Member Slots. AmeriCorps is a national service network that provides full- and less than full-time opportunities for participants, called members, to serve their communities and build the capacity of nonprofit organizations to meet local environmental, educational, public safety, homeland security, or other human needs. Within these issue areas, programs may submit proposals that address specific problems of local communities.
Serve DC asks new and recompeting applicants to submit a logical model prior to application submission. Logic Models will be reviewed by the Serve DC Commission. Following the Serve DC Commissions initial review of logic models, a decision will be made asto invite applicants to submit a full application. Please limit your logic model to 3 pages and email them to
[email protected]
by October 25, 2017 at 5pm. Please note: Continuation applicants do not need to submit a logic model.
Please Note: The deadline for submission is December 1, 2017, by 5 pm.
Applications must be entered in to the CNCS eGrants online system and all required hard-copy documents must be submitted to Serve DC. Late applications will not be accepted. An application is considered late at 5:01 p.m.
The following technical assistance (TA) sessions are available:
Wednesday, September 27 2:00-3:30 pm in the Frank D. Reeves Municipal Center, Serve DC – The Mayor's Office on Volunteerism, 2000 14th Street, NW, Suite 101, Washington, DC 20009
Thursday, October 5 4:30-6:00 pm in the Frank D. Reeves Center
National Direct Applicants
Follow the guidelines below:
September 24 - December 8

By scheduled appointment only, hold a one-on-one meeting with the DC Commission. Contact Pamela Weinberg at

[email protected]

to schedule the appointment
Wednesday, December 13, 2017

National Direct Applicants Notice of Intent due to Serve DC by 5:00 pm
Monday, January 22, 2018

National Direct Consultation forms due to Serve DC by 5:00pm
Download National Direct Consultation Form.
Following these guidelines does not guarantee Commission "Support" for a National Direct Applicant. Failure to follow these guidelines will result in a "Do Not Support" or "Neutral" ranking.
For additional information or to RSVP for technical assistance, please email Pamela Weinberg at
[email protected]
.