Featured Services
Annually awarding AmeriCorps grants to District-based organizations committed to using national...
Working to fight poverty, advance economic and academic opportunity.
Serve DC CERT volunteer program trains residents to be better prepared to respond to...
Funding Alert
The Funding Alert is a weekly electronic publication produced by Serve DC that highlights competitive grant opportunities, coronavirus (COVID-19) related funding opportunities, and available resources.
Serve DC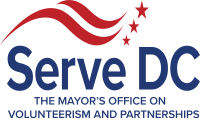 Connect With Us
2235 Shannon Place SE, Suite 3040, Washington, DC 20020
Phone: (202) 727-7925
Fax: (202) 727- 9943
TTY: (202) 727-8421



Agency Performance