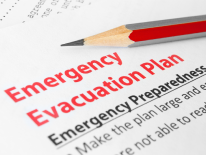 Empowering Residents to be Prepared for Emergencies and Disasters
Serve DC empowers people who live, work, and congregate in the District with the skills and information necessary to prepare for disasters and emergencies. It is important for everyone to have an emergency preparedness kit.
Do you have enough supplies to last for at least 72 hours? Download a recommended emergency supplies list HERE. Being safe starts with being prepared.
---
Training and Mobilizing Volunteers to Create Safer Communities
As the District lead for emergency volunteer and donations management, Serve DC provides critical support to the city's official emergency response effort in the first 72 hours of a crisis. Serve DC recruits and trains District residents to respond and assist during emergencies – ensuring residents play a major role in making their communities safer, stronger and better prepared to address threats of terrorism, crime, and disasters.
Serve DC's (CERT) volunteer program trains residents to be better prepared to respond to emergencies in their communities. When emergencies happen, CERT members can provide critical support to first responders, immediate assistance to victims and can help organize spontaneous volunteers at a disaster site. CERT members can also help with non-emergency projects that help improve community safety.
For more information about the DC CERT program call (202) 727-7925 or click here.