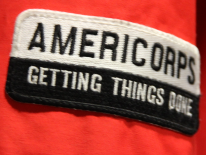 Serving DC through a Lifestyle of Volunteerism
Serve DC is the DC Commission on National and Community Service, one of more than 50 State Service Commissions that administer federal Corporation for National and Community Service funds and coordinate national service initiatives in the District. Each year, Serve DC awards more than $4 million in AmeriCorps grants to District-based nonprofit organizations, schools, and universities to strengthen organizational capacity and create and expand programs that fight poverty and advance economic opportunity and academic achievement. Serve DC funds nearly half of the 1,400 AmeriCorps members who serve at more than 60 community-based organizations in every Ward of the District.
As the DC Commission, Serve DC manages a portfolio of District-based AmeriCorps programs that receive awards through its annual AmeriCorps grant competitions. Serve DC also provides organizations receiving or interested in receiving AmeriCorps funding with ongoing support including: program development and training; conferences and workshops on project planning, partnership development, and program, financial and member management; and technical assistance and working groups to specifically ensure the inclusion and active participation of individuals with disabilities and seniors in national service programs in the District.
For more information about national or community service, please contact [email protected] or by calling 202-727-7925.