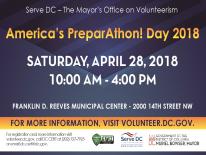 Last Date:
Location:
2000 14th Street NW, Washington, DC, 20009
Building:
Franklin D. Reeves Municipal Center
Room:
2nd Floor - Community Room
Details:
The District of Columbia must be prepared to respond to all natural, man-made, and technological disasters that pose a threat to our residents and visitors.
This PrepareAthon! activity is designed to evaluate capabilities and functionality of community resilience - through improved citizen outreach and engagement - using the simulated response for activation and volunteer staffing of a Volunteer Reception Center.
Join us for the first part of our spring training and exercise series to explore core capabilities within community response through your volunteer service.
America's PrepareAthon! Day 2018: VRC Simulation.
Saturday, April 28 (10:00am-4:00pm)
https://serve.dc.gov/page/emergency-preparedness-serve