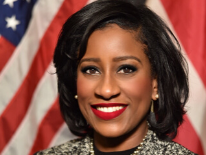 Ayris is a tri-sector leader with a knack for quickly assessing structural challenges and navigating organizations through periods of rapid change, re-alignment and operational expansion. Her record of weaving public-private partnerships has positioned her to raise over $50M and award over $100M in grants and subsidies for underinvested communities in Savannah, Atlanta, Chicago and DC.
In 2018, Ayris was appointed by DC Mayor Muriel Bowser to lead public-private partnerships and has formally served as the Chief Service Officer for the District of Columbia since 2019. In this capacity, she leads ServeDC, the Mayor's Office on Volunteerism and Partnerships, coordinating multi-sector relationships and city-wide service initiatives to amplify civic engagement. Ayris is active in the community and serves an advisory council member for both Wells Fargo's Where We Live and Lyft's City Works initiatives. She is also the chartering President of the National Coalition of 100 Black Women, Inc. Metropolitan Washington D.C. Chapter.
Her previous roles include Vice President of Economic Growth and Jobs for World Business Chicago and Executive Director of the DC Promise Neighborhood Initiative. She has been a featured speaker and panelist for a variety of influential organizations across the country, and in the United Kingdom. Most recently she delivered the keynote address for the U.S. Department of Justice's Annual Women's History Month celebration, focusing on implicit biases and policy creation. Last summer, she co-authored Making Freedom Ring For Black Women on Blackher.us. Ayris' work has also been highlighted on ABC, NBC, Telemundo, Fast Company, Ebony Magazine, The Washington Post, Black Noire and more.
She attended Clark Atlanta University, Kent State University, and Baruch College where she was a National Urban Fellow.