Preparedness Training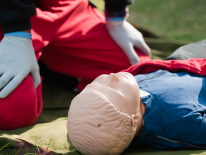 Serve DC knows firsthand that volunteer engagement and response is critical in the event of an emergency, and its preparedness programs ensure residents have the skills and resources necessary to serve their communities in times of crisis.
Serve DC engages residents with free emergency preparedness training opportunities and brings together emergency-trained volunteers who live, work and/or congregate in the same District communities and are capable of responding in the event of an emergency. Trainings are led by emergency-management professionals and first responders and offerings may include topics such as CPR/AED, First Aid, Remote/Wilderness First Aid, Flood Mitigation and Sandbag Operations, Traffic and Crowd Management, Spontaneous Volunteer Management, and more.
Learn more about upcoming raining opportunities:
CPR/AED for the Professional Responder*
*CPR/AED training registration is currently closed. The next session will occur in late November 2014 and registration will be reopened accordingly. DC Fire & Emergency Medical Services also offers CPR training.
Class size is limited and pre-registration is required. There are fees associated with these classes. Learn more about DC FEMS CPR Training.
Learn more about Serve DC's partner emergency preparedness training opportunities:
For questions or further information regarding Serve DC's emergency preparedness training opportunities, please contact Jason Williamson, Emeregncy Preparedness Director.