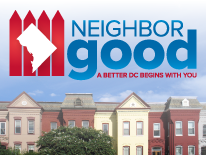 NeighborGood is a free, online District of Columbia-specific volunteer opportunity database and search engine. NeighborGood connects residents with meaningful District-based volunteer opportunities and connects community-based organizations and others with the city's cadre of dedicated, experienced volunteers.
Search for a DC-based volunteer opportunity.
Submit a DC-based volunteer opportunity.
As the District of Columbia Government agency dedicated to empowering residents to meet community needs through service, Serve DC is proud to present NeighborGood as a new tool to help residents engage in meaningful service and connect with the causes and organizations they care about. NeighborGood strengthens District communities by facilitating sustainable communication and collaboration across geographic and topic areas and serving as a catalyst for community-driven, positive change.
---
NeighborGood would not exist without our neighbors! Serve DC is committed to providing a user-friendly experience and encourages and looks forward to residents' feedback and/or suggestions.
For additional information or technical assistance related to submitting or searching for volunteer opportunities, please call (202) 727-7925.