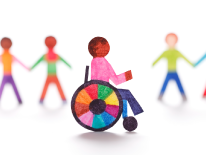 Serve DC strives to ensure the full, proactive inclusion of individuals with disabilities in service and actively encourages individuals with disabilities to participate in national service programs operating in the District of Columbia.
Under federal law, national service program sites are required to comply with the Americans with Disabilities Act (ADA) and Section 504 of the Rehabilitation Act and must make reasonable accommodations to enable a qualified applicant or a national service participant with a disability to participate in the application process or perform essential service functions. Serve DC has available funding to provide reasonable accommodations for persons with disabilities who are applicants or current national service members, which any national service program operating in the District may apply for.
As part of its Disability Inclusion Initiative, Serve DC is seeks a knowledgeable, interested and diverse representatives for its Disability Inclusion Advisory Committee (DIAC). DIAC responsibilities include assisting, advising and providing technical assistance to Serve DC on issues relating to the Americans with Disabilities Act of 1990 and Section 504 of the Rehabilitation Act of 1973; providing technical advice on the development, implementation and maintenance of activities and programs for persons with disabilities; and designing literature, projects and activities that promote the inclusion of qualified individuals with disabilities into national service programs.
Learn More