DCPS Beautification Day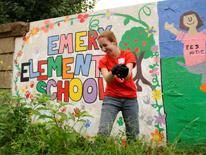 Established in 2005, DC Public Schools Beautification Day is the annual, official citywide "spruce up" of DC Public Schools and grounds. Last year, more than 4,100 volunteers participated at 105 schools across the city.
Each year, Serve DC supports DCPS Beautification Day by partnering with the DCPS Office of Family and Public Engagement (OFPE) and various local entities, including sports teams, companies, and other community- and faith-based groups, to adopt several schools as "signature sites."
Visit the OFPE online for more information on volunteering and/or donating for DCPS Beautification Day.
Stay tuned for photos and more from DCPS Beautification Day 2013!
For more information on becoming a DCPS Beautification Day signature-site partner, contact Serve DC's Director of Communications & Special Initiatives at (202) 727-7925.