Community Emergency Response Team (CERT) Training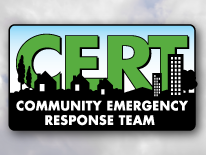 Serve DC's free Community Emergency Response Team (CERT) volunteer program trains citizens to be better prepared to respond to emergencies in their communities. When emergencies happen, CERT members can provide critical support to first responders, immediate assistance to victims and can help organize spontaneous volunteers at a disaster site. CERT members can also help with non-emergency projects that help improve the community safety.
CERT training is free and open to anyone who lives, works or congregates in the District of Columbia. Classes include:
Disaster Preparedness
Fire Safety
Medical Operations and First Aid
Search and Rescue
Disaster Psychology
Terrorism
---
In the event of an emergency, it is critical that Serve DC has current, accurate contact information for our CERT volunteers. Serve DC is currently updating its CERT contact records to create comprehensive emergency preparedness volunteer database, which is critical to our efforts to successfully support the District's emergency response. Please take a few minutes to complete the following form, which updates or confirms your contact information and includes several additional questions geared toward gaining a better understanding of your capacity to respond during a CERT activation, etc. Anyone whose information has not been captured by June 30, 2013 will no longer receive CERT-related information and will be required to retake CERT to join.
---
CERT is a partner and program of Citizen Corps, a national initiative designed to foster a culture of citizenship, service and responsibility. Learn more about national CERT initiatives.