National Service Program Resources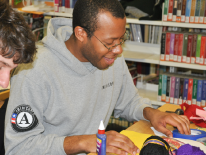 Serve DC helps organizations that receive or are interested in receiving AmeriCorps funding build capacity to create and expand programs that fight poverty and advance economic opportunity and academic achievement. Throughout the year, Serve DC offers free, expert-led conferences and trainings, networking opportunities, and other practical resources to broaden staff and member professional development and program achievement. Serve DC also provides technical assistance to ensure the inclusion and active participation of seniors and individuals with disabilities in District of Columbia national service programs.
All training is free and open to national service programs operating in the District.
Most Frequently Requested
AmeriCorp Regulations
Handbooks, Guides
Disability Inclusion
National Service in DC