National Preparedness Month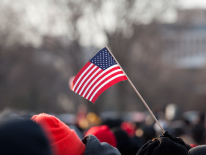 September marks the 9th annual National Preparedness Month (NPM), an annual campaign to encourage Americans to take steps to prepare for emergencies in their homes, schools, organizations, businesses, and communities. NPM is led by the Federal Emergency Management Agency (FEMA) and is sponsored by the Ready Campaign in partnership with the Citizen Corps. While September is the month for recognizing national preparedness, the goal is to engage the public to make preparedness a part of their daily lives.
---
As the designated Citizen Corps coordinator for the District of Columbia, Serve DC is proud to announce the following 2012 events:
9/11: September 11th National Day of Service and Remembrance
9/14: Commander Ready Kickoff
9/24: Planning for Access and Functional Needs Populations in Emergencies
*This event has been postponed.
---
Held each September and sponsored by the Federal Emergency Management Agency's (FEMA) Ready Campaign and Citizen Corps, NPM seeks to transform awareness into action by encouraging all Americans to take the necessary steps to ensure that their homes, workplaces and communities are prepared for disasters and emergencies.