Emergency Preparedness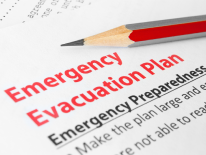 Training and Mobilizing Volunteers to Create Safer Communities
As the District lead for emergency volunteer and donations management, Serve DC provides critical support to the city's official emergency response effort in the first 72 hours of a crisis. Serve DC recruits and trains District residents to respond and assist during emergencies – ensuring residents play a major role in making their communities safer, stronger and better prepared to address threats of terrorism, crime and disasters.
---
Register Today for "Faith in Action" Faith-Based Emergency Preparedness Summit on March 26
In partnership with the Mayor's Office of Religious Affairs, the DC Homeland Security and Emergency Management Agency (HSEMA) and Washington, DC Voluntary Organizations Active in Disasters (DC VOAD), Serve DC invites District houses of worship and faith leaders to participate in "Faith in Action," a half-day summit to discuss how the faith community can support the city's official Emergency Response System and be better prepared to respond during emergencies and disasters.
Date: Wednesday, March 26, 2014
Time: 10:00 a.m. to 3:00 p.m.
Location: Trinity Washington University
This event is free and open to the public, but faith leaders and official representatives will be given priority in registration. Lunch is included.