Jeffrey D. Richardson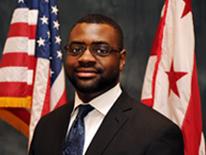 Jeffrey D. Richardson is the Executive Director of Serve DC – The Mayor's Office on Volunteerism. He transitioned into this role after serving as Director of the District of Columbia's Mayor's Office of Gay, Lesbian, Bisexual and Transgender Affairs. Previously, he served as the National Program Director for the Center for Progressive Leadership.
Prior to joining the Center for Progressive Leadership, he was with the DC Children's & Youth Investment Trust Corporation, where he worked with District nonprofit organizations to develop and leverage existing public-private partnerships to support the development and implementation of out-of-school time youth programs. Jeffrey was also a researcher and program coordinator at Howard University's DC-Baltimore Center on Child Health Disparities, where his work focused on youth development strategies targeting the prevention of adolescent risk behavior with a specific focus on adolescent sexuality and service learning.
In addition to his work at Howard University, Jeffrey has interned as a school social worker within the Special Education division of DC Public Schools, where he developed and facilitated parenting workshops, taught in residential treatment settings with students with emotional disabilities, and coordinated civic education and lobbying seminars and conferences on Capitol Hill. He is an AmeriCorps alum and a 2010 New Leaders Council Fellow. Jeffrey is a graduate of The University of North Carolina at Chapel Hill and The Howard University School of Social Work.